Is A.A. for you?
Twelve questions only you can answer.
Take the quiz now…
Is there an Alcoholic in your life?
Want more information about Intergroup 17?
Please feel free to contact us.
AA Preambles
Alcoholics Anonymous is a fellowship of men and women who share their experience, strength and hope with each other that they many solve their common problem and help others to recover from alcoholism.
The only requirement for membership is a desire to stop drinking. There are no dues or fees for A. A. membership; we are self-supporting through our own contributions.
A. A. is not allied with any sect, denomination, politics, organization or institution; does not wish to engage in any controversy; neither endorses nor opposes any causes.
Our primary purpose is to stay sober and help other alcoholics to achieve sobriety.
read more…

Meetings

AA works when one alcoholic shares with another alcoholic. We attend meetings to be with each other and share our experience strength and hope.
Complete list of meetings:
Complete Meeting List or Search For a Meeting
Or
Download PDF format – Legal size 8 1/2 x 14
in PDF format – Letter Size
Newsletter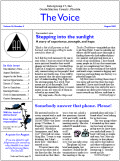 The Voice Online
Intergroup 17′s monthly newsletter. News, events, and inspiration from our local fellowship.
View the April 2014 Issue Now
Volunteers Needed
Service plus fun!
Volunteer today!
352-867-0660
---
Head Start Group
April 26, 2014
Breakfast 7:00 a.m.
Speaker Meeting 7:30 a.m.
Unity Place 525 NE Sanchez Ave. Ocala, 34471
Coming Events
Interested in playing softball?
Softball League forming For Information Contact
Intergroup
352.867.0660
Intergroup Monthly Meeting
Sun., Apr. 13th, Intergroup Reps 4:30 pm Intergroup District 17 3666A NE 25th St., Ocala 34470
Steering Committee follows. All are welcome to attend.
Serenity on the Mountain Retreat
Apr. 11-13, Fri.-Sun. A Spiritual Retreat for Men Contacts: Dexter Hawkins (864) 650-0290 or Joe Lenderman (864) 718-0044
District 17 Monthly Meeting
April 24, Thurs. 6:45 pm. St. Mark's United Methodist 1839 NE Sanchez Ave. Ocala 34470 All are welcome to attend.
Headstart Group Anniversary
Head Start Eat 'n Speak
Breakfast April 26, 7:00am Breakfast 7:30am Speaker. Sweet Treats welcome. Donations accepted. All invited. Unity Place 525 NE Sanchez Ave. Ocala 34470
9th Annual Country Round-Up
"Thy Power, Thy Love, and Thy Way of Life" Apr. 25-27, Fri.-Sun. Ag Center 1424 Jackson Ave. (Hwy. 90) Chipley, FL 32428 Registration $20.00 before Apr. 20th or $25.00 at the door, Children 12 and under $5.00 Sat. evening meal included in Registration Call: (334)372-7979 or (850)768-0311 or (850)768-0457 Email: chip-ley_countryroundup@hotmail.com
District 11 Presents the NFA Service Workshop Apr. 26th Sharing Unity, Service, and Recovery, Crossroads Community Church 2436 Croton Rd.
Melbourne, FL Donation $7.00 Workshops Fellowship, Breakfast and Lunch Provided
8:30 AM Registration Opening 9:00
Workshops 9:30-11:45 Lunch with Forum Writing Workshop 12:00-1:00 Workshops 1:45-4:00 Closing 4:15 PM
24th Spring Conference—The Wood-
stock of A.A. May 2-4 -Holiday Inn-Orlando International Airport 5750 T.G. Lee Blvd., Or-lando, FL 32822 (407) 851-6400
Contact: gyeldell@cfl.rr.com Celebrating the day Bill W. and Dr. Bob first met
Proceeds go to the maintenance and support of Dr. Bob's Home, Inc.
4th Annual Sunshine Convention
"Three Pertinent ideas a. b. c.", May 16-18 Community Center, 1446 Commerce Dr., Crest-view, FL 32536 http://www.sunshineconvention.org/
Sobriety Variety Showcase
May 18th, Sun. 12:30-6:30pm Unity Place 525 Sanchez Ave. Ocala 34470 Free Admission Fine Arts: Sculpture, Paintings, Draw-ings, Photography Performing Arts: Open Mic, Poetry, Skits Carnival Games for Kids: Face Painting, Corn Hole Toss, etc… Dunk Tank, Food and Beverages Email: sobrietyvarietyshow@gmail.com
A Design For Living
June 20-22 Fri.
Sun. Big Book Weekend Celebrating the 79th Anniversary of A.A. with Sandy B., Tampa, FL an
Bob B., St. Paul, MN Hilton Airport Westshore 2225 N. Lois Ave. Tampa, FL 33607 (813)877-6688
*Activities are listed for information only. Not necessarily affiliated with AA World Services and/or Intergroup 17, Ocala/Marion, Florida unless specifically noted.