Is A.A. for you?
Twelve questions only you can answer.
Take the quiz now...
Is there an Alcoholic in your life?
Read A.A's message of hope.
Want more information about Intergroup 17?
Please feel free to contact us.

Alcoholics Anonymous is a fellowship of men and women who share their experience, strength and hope with each other that they many solve their common problem and help others to recover from alcoholism.
The only requirement for membership is a desire to stop drinking. There are no dues or fees for A. A. membership; we are self-supporting through our own contributions.
A. A. is not allied with any sect, denomination, politics, organization or institution; does not wish to engage in any controversy; neither endorses nor opposes any causes.
Our primary purpose is to stay sober and help other alcoholics to achieve sobriety. read more...


AA works when one alcoholic shares with another alcoholic. We attend meetings to be with each other and share our experience strength and hope.



The Voice Online
Intergroup 17's monthly newsletter. News, events, and inspiration from our local fellowship

.
Spring Picnic March 29,2014
Tuscawilla Park 828 NE 8th Ave.
Ocala, Fl 34470
Fun starts at 10 a.m.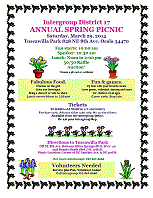 Volunteers Needed
Service plus fun!
Volunteer today!
352-867-0660
Interested in playing softball?
Softball League forming
For Information Contact
Intergroup
352.867.0660


29th Annual Suwannee Big Book
Weekend
Mar. 7-8 The Conference and Re-treat Center, Dowling Park, FL,
Contact: David H. at suwaneebigbook@yahoo.com
Intergroup Rep Meeting Mar. 9th
3666A NE 25th St., Ocala 34470
Steering Committee & Picnic Meetings follow


3rd Annual Central Florida
Women's Workshop
Life Enrichment Center
4991 Picciola Rd.
Fruitland Park, FL 34731
March 14, 15 & 16, 2014
For more information please visit our website:
www.cfwomensworkshop.com
SOBERSTOCK, 2014, Mar. 14-16
Camp Brorein, 16901 Boy Scout Rd. Odessa, Fl
33556 Live Music, campping, speakers, fun
http://www.soberstock.com/
Annual Housecleaning Spiritual
Retreat for A.A. & Al-Anon, Mar. 21-23 Lake Yale Conference Center, FL
http://www.retreatforaa-alanon.com/

19th Annual Country Round-Up "Thy
Power, Thy Love, and Thy Way of Life"
Apr. 25-27 Ag Center, 1424 Jackson Ave. (Hwy 90) Chipley, FL 32428
Contact: chipley_countryroundup@hotmail.com
24th Spring Conference—The Wood-
stock of A.A. May 2-4 -Holiday Inn-Orlando International Airport 5750 T.G. Lee Blvd., Or-lando, FL 32822 (407) 851-6400
Contact: gyeldell@cfl.rr.com
Celebrating the day Bill W. and Dr. Bob first met
Proceeds go to the maintenance and support of Dr. Bob's Home, Inc.

4th Annual Sunshine Convention
"Three Pertinent ideas a. b. c.", May 16-18 Community Center, 1446 Commerce Dr., Crest-view, FL 32536 http://www.sunshineconvention.org/

Sobriety Variety Showcase May. 18th
12:30pm—6:30pm Free Admission
Unity Place 525 NE Sanchez Ave. Ocala, 34470

*Activities are listed for information only. Not necessarily affiliated with AA World Services and/or Intergroup 17, Ocala/Marion, Florida unless specifically noted.